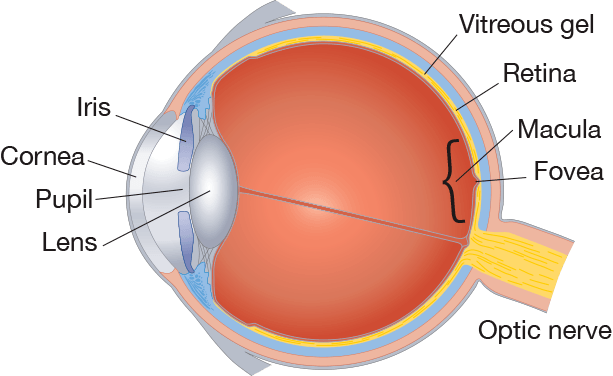 Retina Consultants of Alabama was established in 1992 by Dr. White and Dr. Richard Feist. Dr. Mason joined the group in 1996, Dr. Albert in 2007, Dr. Crosson in 2017, Dr. Reese Feist in 2020, and Dr. Richard Martindale joined the group in 2021. Additionally, Dr. Roberts has been employed as an intermittent physician with the practice since 2005.  Dr. Roberts works during periods of furlough from his missionary service in Bomet, Kenya.
Since 1992, the practice has expanded to provide retina care to patients across north-central, northeast, central, and west Alabama, as well as the Columbus, Mississippi area. Retina Consultants of Alabama now has thirteen satellite office locations in addition to its main office in Birmingham.
What is Retina Specialist?
A retina surgeon specializes in diseases that affect the following:
The Retina – the delicate sensory layer of tissue that lines the eye
The Macula – the central area of the retina that is responsible for fine detailed vision
The Choroid – the vascular inner layer of the eye located between the retina and outer white sclera
The Vitreous – the gelatinous inner cavity of the eye between the retina and the lens
The expertise required to diagnose and treat these complex conditions includes three years of ophthalmology residency training and an extra one- to two-year fellowship in vitreoretinal surgery, beyond medical school.
Ophthalmology
Drs. Feist Sr., Mason, Albert, Roberts, Crosson, Feist Jr., and Martindale all completed a three-year ophthalmology residency training program, followed by a two-year fellowship training program specific to retina and vitreous disease, surgery, and research.
Each of our physicians has many years of experience in the surgical and clinical management of retinal disease using the most advanced equipment, instrumentation and therapies currently available, in state-of-the-art facilities.
The group has published hundreds of manuscripts and presented numerous scientific papers, posters, and videos, as well as directed instructional courses to other physicians at the prestigious American Academy of Ophthalmology, American Society of Retina Specialists, Retina Society, and Association for Research in Vision and Ophthalmology annual meetings, since the early 1990s.
Eye Conditions We Treat
Our physicians have great expertise in evaluating and treating inflammatory, hereditary and congenital retinal disease. We are experts to treat:
Diabetic Retinopathy
Age-Related Macular Degeneration
Choroidal Melanoma
Retinal Tears and Detachments
Retinopathy of Prematurity
Macular Hole
Macular Pucker
We schedule patients Monday through Friday in our Birmingham office location beginning at 8:00 a.m. Appointments are available in our satellite office locations in Anniston, Clanton, Cullman, Gadsden, Gardendale, Jasper, Pelham, Selma, Sylacauga, Trussville, Tuscaloosa, and Vestavia, Alabama and Columbus, Mississippi on specific days.
Please call 1-800-575-4314 for scheduling availability in our thirteen satellite offices in addition to our main office. You may click the links to those offices for maps and directions. Our physicians are available 24 hours, seven days per week to provide continuing retinal care to patients with an urgent or emergent need.